09/10/2019
Verkís fulltrúi Íslands á ráðstefnu Autodesk í Svíþjóð
Í síðustu viku flutti Davíð Friðgeirsson, BIM ráðgjafi og byggingafræðingur hjá Verkís, erindi á Nordic BIM 360 Forum. Erindi hans bar yfirskriftina Simplify coordination, clash detection and design review processes with BIM 360.
Í erindi sínu kynnti Davíð Verkís og BIM innleiðingu fyrirtækisins. Megininntak erindisins var umfjöllun um hvernig BIM 360 hefur hjálpað Verkís að ná stjórn á samræmingu líkana, árekstragreiningu og hönnunarrýni. Fjallaði Davíð um fjögur verkefni í því samhengi; Drøbak sundhöll, fjölbýlishús við Silfratjörn, Búrfellsstöð II og skólpdælustöð við Naustavog.
Þetta er fyrsta ráðstefna Autodesk með þessu sniði. Markmiðið með ráðstefnunni var að kynna tækifærin sem felast í notkun skýlausnar sem tekur á heildarferli mannvirkjagerðar. Að þessu sinni var ráðstefnan haldin í sænsku höfuðstöðvum Skanska í Stokkhólmi. Þátttakendurnir voru flestir frá Svíþjóð en einnig frá Noregi og Danmörku. Davíð var eini þátttakandinn frá Íslandi.
Með þátttöku í ráðstefnunni gafst Davíð tækifæri til að efla tengslanetið og fá betri innsýn inn í hvað er í vændum hjá BIM 360.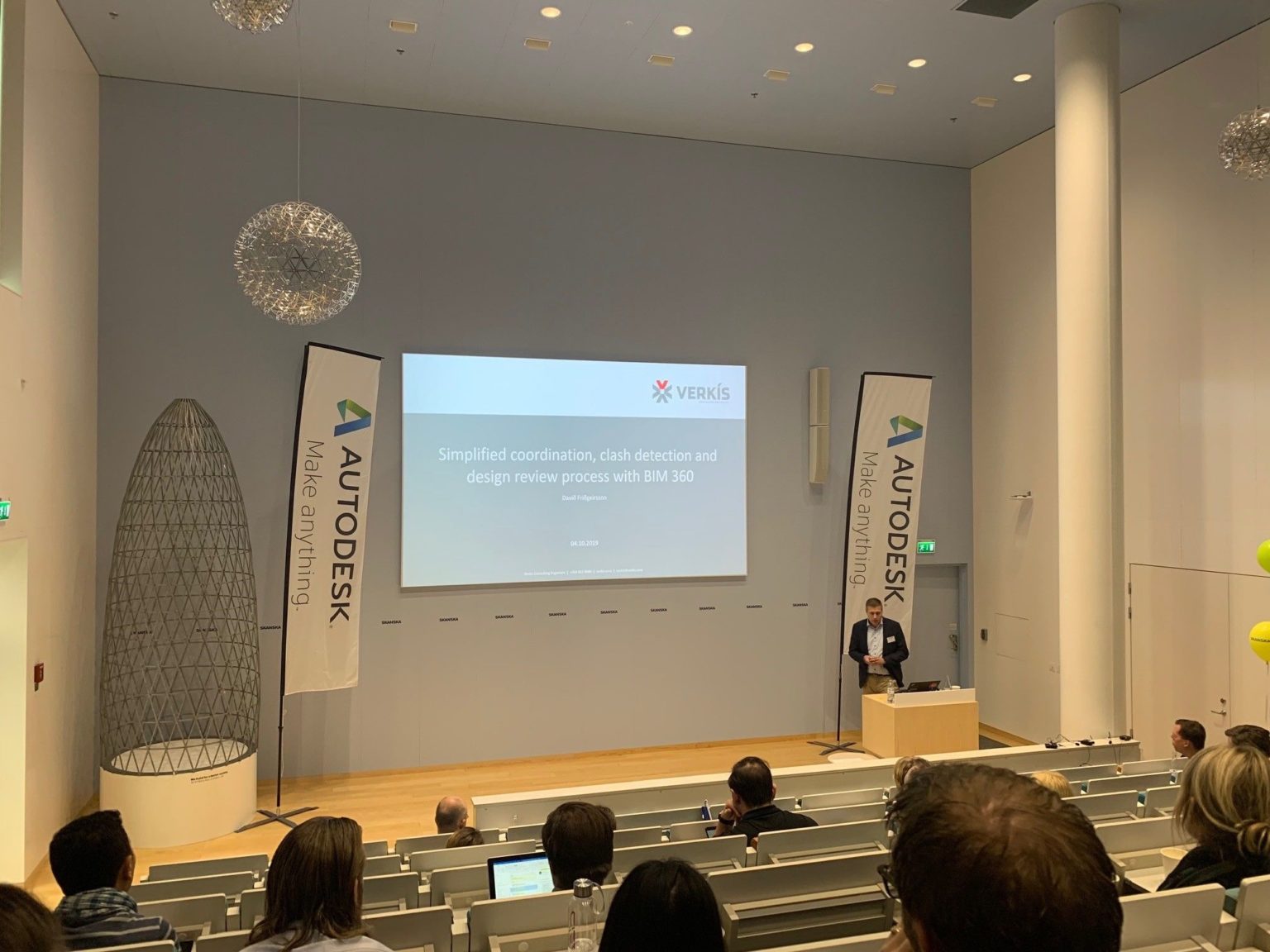 Davíð á Nordic BIM 360